Airplane mode in iPhone is very useful if you a frequent traveler as it enables you to turn off wireless capability of your iPhone while traveling. Turning on Airplane Mode in iPhone is necessary when in flight, etc., but that doesn't mean you can't read or view videos. Be sure to store all the music, videos, etc. in your iPhone and you can still use your iPhone for all other entertainment purposes. You can still click photos and store it in iPhone and when you are done traveling, be sure to upload them to your favorite social network. Most of the basic functions of the iPhone will still work in Airplane mode. According to the Apple Support Guide, Airplane Mode in iPhone turns off the following services dependent on wireless – "Cellular service, Wi-Fi, Bluetooth, GPS and Location Services" which all utilize wireless to either provide voice, data or location services. Next time you are traveling, turn on Airplane Mode in iPhone by following the simple steps outlined below.
How to Turn On Airplane Mode in iPhone
1. Search for the Settings icon in your iPhone. The icon looks like this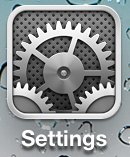 . It is typically located in the home screen and has a gear icon.
2. The first option in Settings is Airplane Mode. Toggle the ON/OFF option to ON, to turn on Airplane mode in iPhone.
3. As soon as you activate Airplane Modein iPhone, a Airplane icon will appear in the status bar of the iPhone. A airplane icon

will always be visible as long as the iPhone settings is set to Airplane Mode.
Turn On Airplane Mode in iPhone
Do you use Airplane mode a lot? Any other use cases for Airplane mode in iPhone? When your iPhone is in Airplane Mode how do you use your iPhone? Share your thoughts with our readers below.
You may also like to read: