FaceTime in iPhone is an exciting video conferencing solution to keep in touch with family, relatives, friends and colleagues at work. The seamless integration with all iOS devices makes FaceTime an attractive proposition and utility for all Apple iOS fans. FaceTime is seamlessly integrated with iOS devices and this makes video chatting with family and friends easy. The settings associated with FaceTime is basic as it is intended to replicate calling your voice-based phone features. You can be reached through FaceTime either by your phone number and/or multiple email ids you have associated with your account. However, if you want to avoid taking calls through FaceTime in iPhone, you can conveniently turn off FaceTime in iPhone by following the simple steps outlined below.
How to Turn Off FaceTime in iPhone
1. Search for the Settings icon in your iPhone. The icon looks like this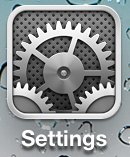 . It is typically located in the home screen and has a gear icon.
2. Scroll down the Settings page and choose FaceTime.
3. This will open up your FaceTime Settings that includes the Apple ID associated with it, phone numbers. If you want to turn off FaceTime in iPhone, toggle the FaceTime option to OFF.
4.  Once it is turned Off, your iPhone device won't support FaceTime and you can't make FaceTime calls or receive FaceTime calls. If you want to Turn On FaceTime in the future, consider the fact that your phone number and/or email address will be shared with people you call.
Turn Off FaceTime in iPhone
Why did you turn off FaceTime in iPhone? Were you getting too many calls. or did you just prefer voice/text over video chat? Share your thoughts with our readers below.
Related Terms:
how to turn off facetime on iphone
how to turn off facetime
turn off facetime iphone
how to turn facetime off
turn off facetime on iphone
turn off facetime
how to turn facetime off on iphone
how to turn facetime on
You may also like to read: