iPhone has become one of the world's most popular smartphones and iPhone users around the world have enjoyed. The iPhone as a device has become a utility that enables users to store music, videos, photos and make calls creating a unified and high-quality user experience.  Each iPhone model has unique characteristics that is registered with the serial number. Knowing the iPhone serial number can help in many situations such as iPhone registration, iPhone repair, iPhone maintenance, etc. as the iPhone serial number is a unique signature for each device. iPhone serial numbers are part of the About section of iPhone. The About section contains rich stats about your iPhone that includes the number of total songs in your iPhone, total number of videos in your iPhone, total applications in your iPhone, iPhone model number, iPhone Wi-Fi Address, iPhone Bluetooth address and more about your iPhone. The following steps outline how you can check iPhone Serial Number of all iPhones including iPhone 3G, iPhone 3GS, iPhone 4, iPhone 4S & iPhone 5.
How to Check iPhone Serial Number
1. Search for the Settings icon in your iPhone. The icon looks like this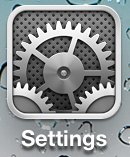 . It is typically located in the home screen and has a gear icon.
2. Click on the General category found in the Settings home.
3. Go to About section in the General category.
4.  The About screen will show you a host of statistics about your iPhone. To check iPhone serial number scroll down to the Serial Number section found a few steps below. This will display your iPhone Serial Number.
Check iPhone Serial Number
Were you able to check iPhone Serial Number? If not leave a note below and we will help you check iPhone serial number. Share your thoughts with our readers below.
For more about Apple Products visit Apple Website
Related Terms: