iPhone is a great device to browse the internet. The ability to browse the vast web through the Apple iPhone allows users to conveniently explore their favorite news websites, social networks and other websites they are used to browsing on the desktop or tablet. However, as is the case in any device these days, browsers keep track of the websites to visit in the History section to enhance your browsing experience. You can access the History section in the iPhone Safari browser to easily visit any website you have visited in the past to avoid typing in the website again. Browsing History in iPhone clearly has use cases, but if you are not comfortable browsers tracking websites you visit, clearing iPhone browsing history is a good option. If browser cookies storing information is a concern, then you can separately clear iPhone browser cookies in addition to clearing iPhone browser history. If you want to clear iPhone Browsing history from the Safari browser follow the simple steps below to clear iPhone browsing history.
How to Clear iPhone Browsing History
1. Search for the Settings icon in your iPhone. The icon looks like this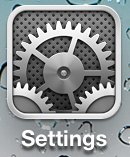 . It is typically located in the home screen and has a gear icon.
2. Choose Safari to change iPhone default search engine
iPhone Settings Safari Options
3. Choose Clear History to clear all browsing behavior logged in iPhone Safari browser
4. A confirmation screen will ask if you are sure you want to clear iPhone browsing history. Note that this action cannot be undone. If you are sure you want to delete iPhone Browsing history, choose Clear History and it will immediately erase all browsing activity stored by Safari.
Clear iPhone Browsing History
Do you regularly clear iPhone browsing history? We recommend you clear iPhone browsing history as often as possible.
You may also like to read: