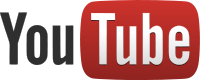 It is very important to secure your online browsing behavior to avoid being targeted by unnecessary and irrelevant ads. On YouTube, many users watch hundreds of videos and don't realize every single video they watch is being added to a History list on YouTube which keeps track of all the videos you have watched. Many people want to clear YouTube history and the steps outlined below show how to do that in a few simple steps.
1. Go to Youtube History
2. Whether you are logged in or not, you should see a list of your recently watched videos on YouTube. The list is personalized and will look like the one below.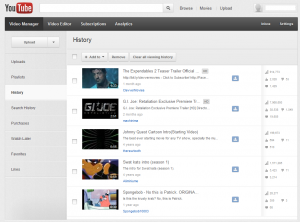 3. Click on the checkbox to the left of the "+ Add To" button and all your videos should be selected.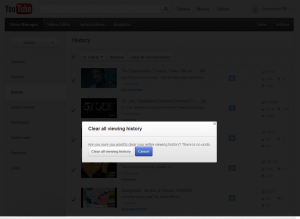 4. A overlay should appear asking you "Are you sure you want to clear your entire viewing history? There is no undo.". If you want to bookmark a few videos for future viewing, them click Cancel and bookmark it, otherwise click "Clear all viewing history"
5. All your videos in the History tab should disappear. If not refresh and see again.
6. Make sure you visit your YouTube history page and delete your viewing history as often as possible. Remember, secure your online browsing behavior and also secure your profiles on various social networks. If you have any questions and comments on how to clear YouTube history leave a note below and we will promptly reply.
Image Credit: YouTube Wikipedia
Related Terms:
how to clear youtube history
Clear YouTube History
You may also like to read: