Google+ is an emerging social network that is making inroads by accumulating users and popular brands. As a social media manager it is important to create a presence online on popular social networks and Google+ is definitely one of them. If you have a Google+ page it is important to showcase that to your users and a Google+ Widget is an important to-do item to embed on company and brand websites. A customizable Google Plus Widget can be used to allow users to Follow your Google+ brand page directly from your website similar to how other social networks have custom widgets on websites.
Google Plus Widget will empower your website by enabling users to connect with your brand in many different ways – through photos, status updates, etc. Remember, Google also owns Meebo Bar which is a nifty tool to support sharing through other social networks and is a perfect compliment to the Google Plus Widget.
How to Add Customizable Google+ Widget to Your Website

Visit the Google Developers Page for Google+
If you are logged into your Google Plus profile, the page should already have the Google Plus profile and Google Plus widget in preview mode. If not, choose the page you want to generate a Google Plus widget for your website. You can select three different Google Plus Widget types: Icon, Small Badge and Standard Badge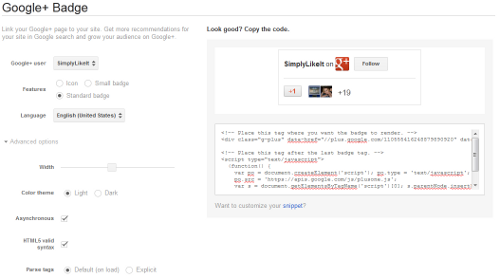 To get a preview of the Google+ Widget, you can see our Google Plus Widget in the right sidebar. You can conveniently view the number of people in SimplyLikeIt's circle and also Follow if you are already logged into your Google+ account.
You can quickly grab the javascript generated by the Google Plus Generator and pass it  to your webmaster orembed the code yourself.
Cut and paste the code generated by the Google Plus Widget Generator directly into your webpage where you want the Google Plus Widget to be rendered. We recommend placing the Google Plus Widget in your website sidebar so that it appears on all pages served by your website and sidebar is a convenient location to place all your social media widgets including the Google Plus Widget.
 Now your website visitors can directly follow you or your brand on Google Plus.
Benefits of Adding Customizable Google Plus Widget to Your Website

A Google+ Widget on your website allows users to automatically Follow your brand
It is important to give users choice of their favorite social network. While there are many,
If you are a blogger or an individual, linking your Google+ profile through a Google plus Widget helps enhance your search result rich snippet content and this adds visibility to both your Google+ profile and the search result.
Brands and individuals can build multiple touch points with users by having a widget showcasing your eisting Follower count. This count prompts many people to make an instant decision to follow brands as follower count is certainly one big factor that determines the popularity of a brand.
You can also integrate and link the Google+ profile with online marketing campaigns in Google Adwords. The Google Plus widget will increase the probability of users following your brand or yourself when they click-through the Adwords ad.
Here is a short video from the Google YouTube channel that shows you what Google Plus has to offer. Google+ Widget is mainly for website owners and companies that want to showcase their Google+ Page to their users.
Getting Started – Google Plus Widget
Do you use Google+ for your company or do you use Google+ as a user? Do you have a customizable Google+ widget on your website? Share your thoughts about Google+ in general with our readers below.
Image Credit: Google+ Image
Related Terms:
You may also like to read: