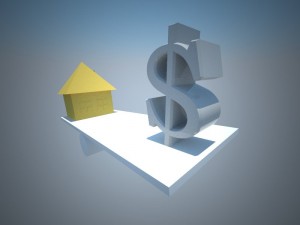 A home mortgage is a loan that is used to finance a home. For most people, a home mortgage on a home is the largest debt they will ever incur. Most home mortgages are spread over a period of ten to twenty years, and the house itself is collateral for the loan. If the payments on the home mortgage loan are not made as agreed by the person or persons who sign the mortgage agreement, the lender has the right to take possession of the property and sell it to satisfy the remainder of the debt.
Home mortgage payments are usually made monthly, and include a portion of the principal of the home mortgage, which is the amount of money financed in the home mortgage loan, less of course, the down payment made by the purchaser, interest, which is the rate the lender charges the borrower to use the money, as well as a portion of the property taxes, and home insurance, which is required by the lender of the mortgage loan. First time home buyers often make some common mistakes while buying houses, and selecting the right home mortgage plan is a common misstep that puts many home buyers in trouble.
Home buyers who are not able to pay at least 20 percent of the sales price as a down payment in their home mortgage may also have to pay PMI, or Private Mortgage Insurance which is protection for the lender in case the borrower defaults on the mortgage loan. There are many other types of homeowners insurance that home buyers can potentially opt for when buying a home. Home mortgage payments are amortized, which means that the bulk of the payments are at first mostly made up of interest payments, and later on, will gradually increase to being mostly payments of the principal. The home mortgage debt decreases year by year until one day it is completely paid out, and the buyer has completed the terms of the mortgage, thereby receiving the deed to the property.
Home mortgage loans make it possible for millions of people in the United States to be proud homeowners. Without mortgages, there would be few property owners. That being said it is very important to select a home mortgage in a range that is affordable and easy to pay avoiding any possibilities of entering into foreclosure. Some companies that give out home mortgage loans to home buyers include
Image Credit: http://www.sxc.hu
You may also like to read: