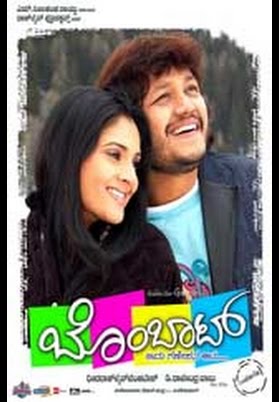 Bombaat Kannada Movie (2008) starring Golden Star Ganesh, Ramya, Avinash and Rahul Dev and directed by Rajendra Babu delivers an action packed entertainer that is bound to please Ganesh fans. The entertainer manages to keep a fine balance between action, romance, drama, sentiments and is a clean family movie that can be watched by all ages. Songs by Mano Murhty never are dull and in this movie he continues to deliver some rocking songs including the Maathinalli Helalaarenu (Sonu Nigam) along the lines of Ninendale, Anisuthede. The love story is the tried and tested formula of Indian cinema – boy meets girl, falls in love but has villains as obstacles, but the packaging by Rajendra Babu is brilliant.
Bombaat Kannada Movie Story
The story of Bombaat Kannada movie is all about fighting evil for the sake of love and while this story might not be new, it is a fresh take on a love story by getting the balance right – the right balance between action, comedy, romance and sentiments. Anand (Ganesh) impresses the police commissioner (Avinash) with his daredevil attitude and tries to help the police in his own freelancing ways. Shalini (Ramya), daughter of the police commissioner comes back from abroad after completing her studies and finds herself in the middle of gangsters – Dasa, Aadhi and Gajendra who want Aadhi married to Shalini. The police commissioner requests Anand to protect Shalni from these gangsters and how their misunderstandings increase and who she marries forms the crux of the story..
Best Performance of Bombaat Kannada Movie
Golden Star Ganesh – if you have seen Gaalipaata, Mungaru Male and typecasted him only as a romantic hero, he will surprise you with great action sequences and continue to be that boy next door
Watch-out For
Rahul Dev suits the villain role nicely and his performance is brilliant; the back and forth dialogue between Ganesh and him is a must watch – is sure to leave you in splits (it is more comical than terrifying and this is intentional)
Best Song of Bombaat Kannada Movie
Maathinalli Helalaarenu (Sonu Nigam) – Sonu Nigam is back with another delightful solo love song that is bound to remain in your mind after you watch the movie. It is no surprise that Mano Murthy's favorite singer is Sonu Nigam as they go a long way back since the Mungaru Male days and have churned out hits like Ninendale Ninendale (Milana Kannada Movie)
Best Scene of Bombaat Kannada Movie
The way he runs up to the villains, kicks a crate of Pepsis, catches it in mid-air and offers a drink to the villains is classic Kannada cinema. (watch out for the Karnataka flag in the background)
Best Dialogue of Bombaat Kannada Movie
"Kana Ipadu Chudu" – Anand (Ganesh) spoofs the dialogue often uttered in Tamil/Telugu cinema. This dialogue starts off his fight with the villains.
Our Verdict – Bombaat Kannada Movie
Rating: 4/5 (Bombaat is an excellent Kannada action entertainer)
Watch Bombaat Kannada Movie
[ Watch Bombaat on YouTube] (Free)
Image Credit: Watch Kannada Movie
Bombaat Kannada Movie starring Golden Star Ganesh, Ramya, Avinash & Rahul Dev and directed by Rajendra Babu is a great action entertainer that has the right mix of romance, comedy action and sentiment. While the love story of two lovers running into villains is not new., the music, story and dialogues steal the show to make this a fantastic entertainer for the family.
Related Terms:
bombaat kannada movie online
You may also like to read: