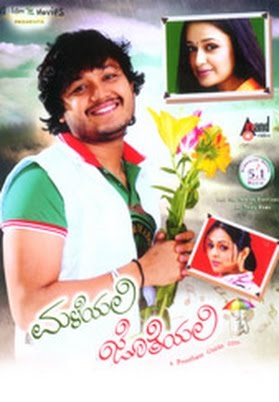 Maleyali Jotheyali Kannada Movie (2009) starring Golden Star Ganesh, Anjana Sukhani and Yuvika Chaudhary and directed by Preetham Gubbi is a fantastic youth entertainer that talks about love and friendship and how it two relationships often become seamless. Maleyali Jotheyali Kannada movie is available on YouTube for Free (one full length high quality video) – so you don't have to watch it in parts (see link below). Ganesh is refreshing as the love-struck, happy-go-luck lover that catapulted him to fame in Mungaru Male. The movie is produced by Ganesh and his wife (Shilpa Ganesh) and he has gone all out to make it a treat for his huge fan following across Karnataka and abroad. Thye music by Harikrishna provides a fantastic backdrop to the movie and is shot in picturesque locales around the world. As in most Ganesh movies, Sonu Nigam- Shreya Goshal duets have become the norm and Yenu Helabeku stands out for the soothing score and effortless singing by the duo.
Maleyali Jotheyali Kannada Movie Story
The story of Maleyali Jotheyali Kannada movie is all about friendship and love. Preetham (Ganesh) is the son of a wealth businessman, and his father decides to get him married. Preetham bribes the astrologer who advised his father to send him off to Sakaleshpura. There he falls in love with Anjali (Yuvika Chaudhary) and also meets Sandhya (Anjana Sukhani) who hates men. While Preethan loves Anjali, Sandhya starts to like Preetham and doesn't express her self to him. How the three friends find love forms the crux of the story.
Best Performance of Maleyali Jotheyali Kannada Movie
Ganesh is fabulous in the role of a happy-go-lucky person and also does well in emotional scenes. The role reminds you of the blockbuster hit Mungaru Male, although the story in Maleyali Jotheyali Kannada movie si completely different and bears no resemblance.
Watch-out For
Yuvika Choudhary – excellent acting and is great in emotional scenes. The chemistry between her and Ganesh in songs is great. Hopefully they come back with a new movie soon.
Best Song of Maleyali Jotheyali Kannada Movie
Yenu Helabeku (Sonu Nigam & Shreya Goshal) – flawlessly singing by the evergreen Sonu Nigam and Shreya Goshal; their pronunciation is brilliant, hard to believe Kannada is not their 1st language
Best Scene of Maleyali Jotheyali Kannada Movie
The climax has to be the top scene of the movie. Ganesh is brilliant and the dialogues suit his character very well. Without revealing too much, it is bound to leave you with a few tears in your eyes
Best Dialogue of Maleyali Jotheyali Kannada Movie
"Kan ishta padathu hudugi jothe noor varsha badukonkinta, manas ishta padathu jeeva jothe mur nimsha badakondidre ade noor varsha badakthare " – Preetham (Ganesh) to Anjali (Yuvika Chaudhary)
Our Verdict – Maleyali Jotheyali Kannada Movie
Rating: 4/5 (Maleyali Jotheyali is an excellent family entertainer)
Watch Maleyali Jotheyali Kannada Movie
[ Watch Maleyali Jotheyali on YouTube] (Free)
Image Credit:  Watch Kannada Movies
Maleyali Jotheyali Kannada Movie starring Golden Star Ganesh, Rajkumar and Parvathi Menon and directed by Prakash is a fantastic youth entertainer that talks about love and friendship and how it two relationships often become seamless
Related Terms:
maleyali jotheyali full movie watch online
maleyali jotheyali full movie dailymotion
maleyali jotheyali full movie
maleyali jotheyali movie online
You may also like to read: