Call forwarding is agree feature in today's smartphones as it enables users to quickly forward call to their other devices. For example a great use case of using call forwarding is to have your office or business iPhone forward calls to your home or personal cell phone. Call forwarding assures you don't have many missed calls as you can always forward calls to your friends or yourself if you think you won't be able to receive it. Follow the simple steps below to setup call forwarding on your iPhone.
How to Setup Call Forwarding on an iPhone
1. Search for the Settings icon in your iPhone. The icon looks like this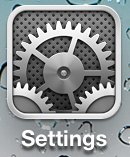 . It is typically located in the home screen and has a gear icon.
2. Choose Phone to view Apple iPhone settings.
3. Tap Call Forwarding to view the status of Call Forwarding.
4. If it is OFF, toggle it to ON.
5. This will display another option Forward To. Tap this option to setup call forwarding quickly.
6. Add the number you want all calls from iPhone forwarded to.  Once you type in the number, tap and you are done setting up call forwarding on your iPhone.
Setup Call Forwarding o
Setup Call Forwarding on an iPhone
Start using callforwarding to forward calls from your iPhone to your relatives or to yourself. If you know someone who would find the call forwarding feature on iPhone useful share this article with them so that they can get started with call forwarding on iPhone. This feature is great for families as they can setup call forwarding on their phones so that they never miss another important call. There might be numerous examples, but one that comes to mind immediately is a dad and mom setting up call forwarding so that any important phone call from their kids. If you have a minute do setup cal forwarding on your apple iPhone and reap the benefits of a robust smartphone.
You may also like to read: