iPhone has become one of the world's leading smartphones and has accrued millions of fans around the world. iClloud from Apple is a cloud service initiative from Apple aimed at storage services like Box, Drive, etc. Apple iCloud comes with many different packages starting with a free iCloud storage space package comparable to its competitors like Google Drive, Box. The basic plan is free and allows users to store 5GB in iCloud. This is great as you can sync your calendar, store music, videos and photos. If you want to upgrade your plan, there are other options as well – $20/year for 15GB total iCloud Storage, $40/year for 25 GB storage and $100/year for 55 GB iCloud storage. You can also check many interesting stats about your iPhone that includes the number of total songs in your iPhone, total number of videos in your iPhone, total applications in your iPhone, iPhone model number, iPhone Wi-Fi Address, iPhone Bluetooth address and more about your iPhone. The following steps outline how you can check iCloud Storage in iPhone.
How to Check iCloud Storage Space in iPhone
1. Search for the Settings icon in your iPhone. The icon looks like this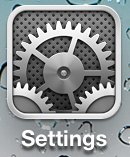 . It is typically located in the home screen and has a gear icon.
2. Click on the iCloud option found in the Settings home.
iPhone Settings iCloud Option
3. The iCloud screen has many granular settings you can toggle. Scroll down and click Storage & Backup.
4.  The Storage & Backup screen will display the iCloud plan you have picked next to Total Storage and your Available Storage. You can check iCloud Storage Space at all times in this screen to monitor if you. If you are getting close to the Total Storage, you can also change iCloud Storage Plan click Change Storage Plan.
Check iCloud Storage Space
Were you able to check iCloud Storage space? Do you use iCloud across all devices? Which iCloud Storage plan is ideal for your usage? Share your thoughts with our readers below.
For more about Apple Products visit Apple iCloud
Related Terms:
how to check icloud storage
You may also like to read: